Having an extendable dining table is something that every home should have, one that goes from a 6 seater to eight or from a 4 seater to a 6 seater. These practical additions create more space in a flash and are unthinkable for many people without them. The extendable dining tables are a worthwhile investment whether you want to accommodate unexpected guests at dinner or use it otherwise.
What do they like to use? Is it safe to use them? What are the advantages and disadvantages of each mechanism?
An Extendable Stanford Table with a Butterfly Extension
The design of the Stanford extendable dining table was inspired by the way in which butterflies unfold and store their wings. Clearly, reclaimed wood furniture like this is in high demand. It extends at each end of the reclaimed wood dining table with a simple mechanism that pulls apart the rustic dining table top. After this, the 'flap' is clicked into place in order to eliminate the possibility of it collapsing back in with a slight push.
A Farmhouse-Style Dining Table in the Faringdon Collection
A great example of an industrial style dining table is the Standford while a great example of a farmhouse style dining table is the Farringdon.
For a farmhouse kitchen/dining area, the table is essentially its beating heart. Everyone gathers around it for family meals, board games, or to simply talk, listen, and laugh together. Likewise, it has an easy-to-operate extending flap so there's always extra tabletop space available.
Slide And Lock Option For The Beam Extending Table
Expandable tables expand a standard dining table from four to six people (you can actually fit more around them – we've tried!). With a rustic dining table like the Beam, the versatility is virtually limitless, but the two extending flaps give you more options.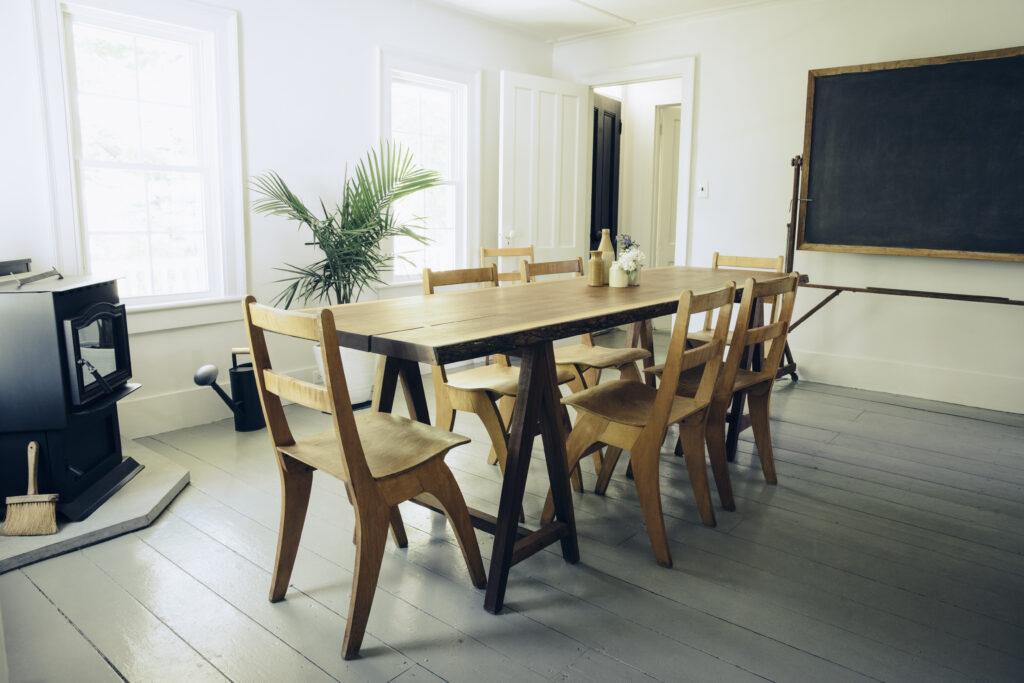 If you choose to have two extending sections, there is a simple mechanism that allows you to slide them in place and lock them. When you serve dinner, simply slide out the extending flap if a homework assignment lasts a few nights.
A Simple, Easy-To-Use Trestle Extending Table By Lansdowne
There's nothing more industrial and utilitarian than a trestle table, and the extendable table is not just for the farmhouse. Lansdowne trestle tables extend by way of flaps on either end or a leaf at the top, similar to the Beam table. Why not also include the matching dining bench with the versatile extensions? Some of the best dinner parties are the ones that are unplanned, casual, and let everyone cram around the table at the same time.
Choosing The Right Extension For You
For families with occasional need for the middle extension tables, or even occasional use of the middle extension table, these tables are a great option as a fixed option. As quick and easy to pull out as they are to push in, the extending flaps are the ideal solution for those of us who require extra space often.