Flow monitoring, LNK WiFi, and up to 22 irrigation stations are available in the most flexible irrigation controller. Customers can choose between 4 and 22 stations on the ESP-ME3. This controller can be installed on both residential and commercial sites. You can add station modules without removing or even powering down the controller when expanding irrigation. Install a WR2 rain sensor and the LNK WiFi module to upgrade the ESP-ME3 to a SMART controller. Monitoring and programming are simple with the ESP-ME3 LNK module. Install a flow sensor for even greater irrigation system protection and monitoring. Let's take a look at the Rain Bird Wireless Controller review below.
WiFi Connectivity
With the Rain Bird LNK WiFi Module (sold separately), users can access, operate, and monitor their irrigation system from any location. Weather information obtained from the Internet is used to adjust the irrigation schedule daily, saving up to 30% of water.
Product Details
Recommendations for Programming
For Rain Bird irrigation zones, the maximum cycle time should be less than the time needed for runoff to begin, and there should be adequate soak time before the next irrigation cycle starts for the same zone.
Specifications for Operation
Timing of the station: 1 minute to 6 hours
5%-200% seasonal adjustment
149°F (65°C) is the maximum operating temperature
Pigtail installed at the factory
For international models, 120 VAC * 10%, 50/60Hz (230/240 VAC * 10%, 50/60Hz) is required.
55 VAC 1A at output
Relay for master valves/pump starts

Voltage: 24 volts, 50/60 Hz
Maximum coil inrush: 11VA
Maximum coil holding: 5VA
Controls And Features Of The Rain Bird ESP-ME3
In addition to automatic watering settings, the ESP-ME3 series controller comes with program start buttons, manual water settings, alarm indicators, and run-time settings. Additional options include year-round seasonal water capabilities, with run times between 5% and 200%.
There are easy-to-use controls on the base of the timer, which are clearly labeled for user accessibility. See pages 10 to 12 of the ESP-ME3 controller user manual under the "Owner's Manual" tab on the product page for more information on the base programming features.
Videos & Articles Related to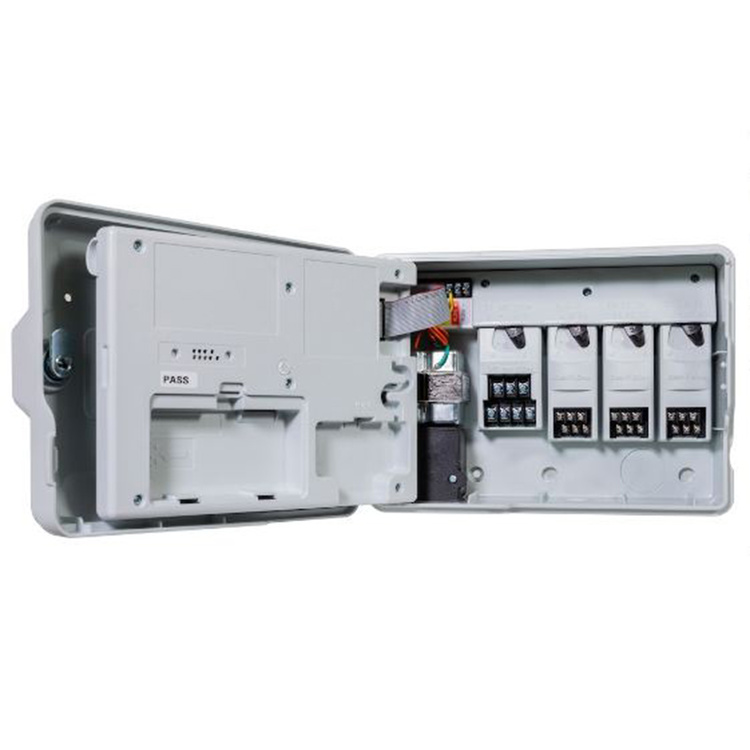 Affiliations
Programming an Irrigation Controller/Timer
Modular Irrigation Controllers: Adding Modules
Irrigation Controller Add-Ons To Consider
Sprinkler Warehouse's recommended irrigation controllers
Irrigation controller types of weather sensors
Irrigation controllers with different types of rain sensors
Advanced Controls And Special Features Of The Rain Bird ESP-ME3
You can access the special features of this timer by turning the dial to the appropriate position. You can see these features by pressing the left and right arrow buttons simultaneously. Advanced controls include the ability to delay the start of a zone until it has completely closed. By clicking the "flow sensor" button, you can access the flow sensor's controls. In the event that it is necessary to alter or erase programming, the controller also allows for a complete reset that will restore the controls to their factory defaults. When the LNK WiFi module is installed, you can access these controls and more on the Rain Bird app.
Learn how Rain Bird's ESP-ME3 is compatible with smart homes
LNK Wifi is not included in the ESP-ME3 base model, however, the controller is compatible with smart home technology. The LNK Wifi module converts the base module into a smart controller, which is available at Sprinkler Warehouse. Using the Rain Bird app, customers are able to access their irrigation system at any time. Using this small yet powerful accessory, users can completely customize their controller from anywhere. Please visit sprinklerwarehouse.com or sprinklerschool.sprinklerwarehouse.com for more information about the LNKWIFI device and how it works.