1.  Add Some Colorful Flowers.
A splash of color can brighten up any garden, and there are endless possibilities when it comes to choosing flowers. From delicate blossoms to bold and vibrant petals, there is a flower to suit every taste.
2. Trim The Bushes And Hedges.
Overgrown bushes and hedges can make your home look unkempt and messy. Give them a trim to tidy up the area and create a neater appearance.
3. Plant Some Trees.
Trees are not only aesthetically pleasing, but they also provide many benefits, like shade, oxygen, and privacy. Choose a few different varieties to add interest and variety to your yard.
4. Install a New Driveway Or Patio.
If your driveway is cracked or your patio needs repair, consider replacing them with new ones. This will give your home an instant facelift and increase its value.
5. Paint the Front Door.
A fresh coat of paint can do wonders for any surface, including your front door. For a cohesive look, choose a color that complements the rest of your home's exterior.
6. Add Landscaping Lights.
Installing lights in your landscaping is a great way to add safety and security to your home. They can also be used to highlight certain features or create a beautiful ambiance in your yard.
7. Put Up a Fence.
A fence is not only functional, but it can also be quite stylish. It can provide privacy, and security, and even increase the value of your home.
8. Build a Pergola Or Gazebo.
If you're looking to add some character to your yard, consider building a pergola or gazebo. These structures are not only beautiful, but they can also be quite functional.
9. Plant Some Fruit Trees.
Fruit trees not only add to the beauty of your landscape, but they can also provide you with fresh produce! Choose a few different varieties to enjoy throughout the year.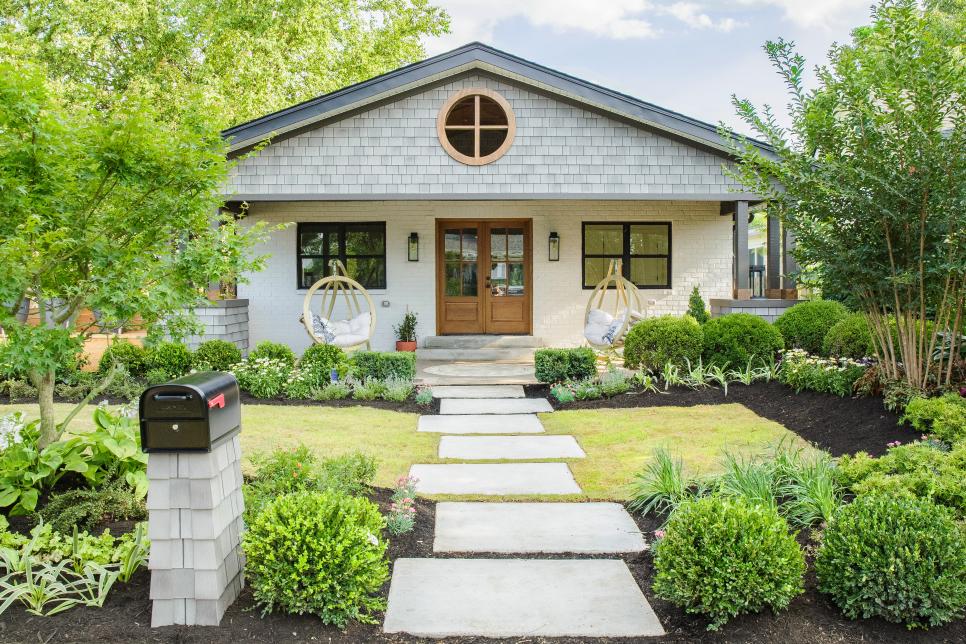 10. Add a Water Feature.
Whether it's a simple fountain or a more elaborate pond, a water feature is a great way to add interest to your landscape. It's also a great way to attract wildlife like birds and butterflies.
11. Install An Irrigation System.
If you have a large lawn or garden, an irrigation system can be a lifesaver. It will help you keep your plants healthy and hydrated, and it can even save you time and money.
12. Put Up a Privacy Screen.
If you're looking for a little extra privacy, consider installing a privacy screen. There are many different styles and materials to choose from, so you're sure to find one that suits your needs.
13. Grow Some Herbs.
Herbs are not only fragrant and beautiful, but they can also be quite useful in the kitchen. Plant them in pots or in the ground, and enjoy fresh herbs all year long!
14. Install a New Walkway.
A new walkway is a great way to add curb appeal to your home. It can also make it easier and more enjoyable to get around your yard.
15. Add Some Window Boxes.
Window boxes are a great way to add color and life to your home's exterior. They're also relatively easy to install and maintain, making them a great option for even the novice gardener.
16. Plant Some Shade-Loving Plants.
If your yard doesn't get a lot of sun, there are still plenty of plants that will thrive in the shade. Hostas, ferns, and impatiens are just a few of the many options available.
17. Build a Raised Garden Bed.
Raised garden beds are a great way to grow vegetables or flowers without having to worry about weeds or soil quality. They're also quite easy to build, and they can be customized to fit any space.
18. Add a Fire Pit.
A fire pit is a great way to extend the use of your yard into the cooler months. It's also a great gathering place for friends and family.
19. Plant Some Flowering Bulbs.
Flowering bulbs are a great way to add color and life to your landscape. They can be planted in the spring for summer blooms or in the fall for spring flowers.
20. Install a New Mailbox.
A new mailbox can add curb appeal to your home, and it's a relatively easy project to tackle. For best results, choose a style that complements the rest of your home's exterior.